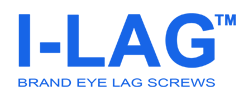 The
175 SD
self drilling eye lag screw is designed to go through one or two layers of 5/8″ drywall and then into 16 to 22 gauge sheet metal. The 175 SD is the only screw of it's kind with an ICC-ES listing. Drill point to collar is about 2″, overall length is about 3 1/4″.
Pair with a Lagmaster® Pole Tool to hang ceiling wire or jack chain quickly and safely from the ground.
Designed for interior use and tension applications only.


Product Code: 175SD
RELATED VIDEOS
Hanging Ceiling Wire
Hanging Pre-Tied Wire
Hanging Jack Chain
Hanging Pre-Tied Wire with LMP Head
PRODUCT SPECS
ICC-ES Evaluation Report ESR-3135
Eco friendly RoHS compliant
American Recovery & Reinvestment Act compliant
Yellow zinc plated
Overall length is about 3 1/4″
Thread length is about 1 3/4″
Length from collar to drill point is about 2″
Thread size: 1/4″ – 14BSD
Hole is designed to accommodate 12 gauge ceiling wire
May be installed from the ground using a Lagmaster® pole tool
May be pre-tied to ceiling wire or jack chain
Packaged in boxes of 1000 (counted by weight)
Box weight: 31 lbs.
Pallet quantity: 75 boxes
QC testing performed at an A2LA ISO/IEC 17025 accredited Q-Lab
DOCUMENTATION