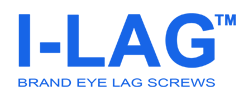 The
W300M I-LAG™ screw
(eye lag screw) is designed to fasten ceiling wire or jack chain to wood surfaces.
Pair with a Lagmaster® Pole Tool to hang ceiling wire or jack chain quickly and safely from the ground.
The W300M is not a plated screw and therefore is recommended for indoor applications only. Click here to see the zinc plated W300MZP.
Designed to be used in tension applications only.

Product Code: W300M
RELATED VIDEOS
Hanging Ceiling Wire
Hanging Pre-Tied Wire
Hanging Jack Chain
Hanging Pre-Tied Wire with LMP Head
SPECS
May be installed from the ground using a Lagmaster® pole tool
Overall length is about 3" with at least 1-1/2" of thread
Thread size: 1/4″ Nominal – Type A
May be pre-tied to ceiling wire or jack chain
Packaged in boxes of 1000 (counted by weight)
Box weight: 23 lbs.
Pallet quantity: 100 boxes
Manufactured at an ISO 9001 approved factory
DOCUMENTATION
RELATED PRODUCTS