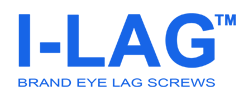 The 225 SDC self drilling eye lag screw is designed to go through two or three layers of 5/8″ drywall and then into 16 to 22 gauge sheet metal. The 225 SDC is the only screw of its kind. Drill point to collar is about 2.5″, overall length is about 3.75″.
Pair with a Lagmaster® Pole Tool to hang ceiling wire or jack chain quickly and safely from the ground.
Designed for interior use and tension applications only.


Product Code: 225SDC
RELATED VIDEOS
Hanging Ceiling Wire
Hanging Pre-Tied Wire
Hanging Jack Chain
Hanging Pre-Tied Wire with LMP Head
PRODUCT SPECS
Eco friendly RoHS compliant
American Recovery & Reinvestment Act compliant
Yellow zinc plated
Overall length is about 3 3/4″
Thread length is about 2 1/4″
Length from collar to drill point is about 2 1/2″
Thread size: 1/4″ – 14BSD
Hole is designed to accommodate 12 gauge ceiling wire
May be installed from the ground using Lagmaster® ®, Lagmaster® A+®, Lagmaster® Plus® or PurlinMaster™ pole tools
May be pre-tied to ceiling wire or jack chain
Packaged in boxes of 100 (counted by weight)
Box weight: lbs.
Master carton weight: lbs.
QC testing performed at an A2LA ISO/IEC 17025 accredited Q-Lab
DOCUMENTATION