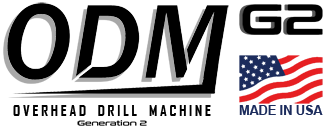 The patented Overhead Drill Machine – Generation 2 is the ultimate all-in-one extension tool for overhead drilling applications. The universal saddle fits most "D" handle, "L" shaped, Pistol grip and Cordless rotary hammer drills. The ODM G2 is the most efficient and effective tool of its kind. Use it to install wedge anchors, tie wire anchors, concrete screws and a variety of other anchors safely from the ground. The ODM G2 telescoping pole tool is recommended for heights up to 13'.
Compact design – fits into tight spaces
Welded aluminum saddle fits most hammer drills
"Hands free" ceiling probe trigger system
Detachable foot pedal eliminates arm and shoulder fatigue
Light-weight telescopic aluminum pole tool with incremental height adjustments
Product Code: ODM G2

VIDEOS
SPECS & FEATURES
Universal saddle fits most "D" handle, "L" shaped, Pistol grip and Cordless rotary hammer drills on the market including: Dewalt®, Hitachi®, Makita®, Milwaukee®, Bosh® & Hilti®
Perfect for applications that are unfit for scissor lifts, such as in between pre-installed ceiling grid, pipes, cables or above stairs
Improves safety by keeping you and your employees on the ground
Recommended for ceilings up to 13'
Three telescopic sections of black anodized aircraft quality aluminum tubing
Hands free trigger system allows you to grip the pole with both hands which increases stability and safety
The ODM G2's ceiling probe mechanism automatically activates rotary hammer when upward pressure is applied and deactivates the rotary hammer when pressure is removed
Capable of height adjustments in increments as small as 1" – set optimum height for use with the included foot pedal
Use the detachable foot pedal to eliminate strain and fatigue on your arms and back, perfect for big jobs with a uniform ceiling height
Universal saddle weight is 2.55 lbs., pole weight is 3.5 lbs. and the pedal weight is 3.35 lbs. Total weight = 9.4 lbs. (does not include the weight of the hammer drill)
Made in the USA
COMPATIBLE DRILL MODELS
BOSCH® 11250VSRD Boschhammer w/ Microfilter System
BOSCH® RHH181-01 Brushless Rotary Hammer Kit with Chisel Function
BOSCH® GBH18V-26 Bulldog™
BOSCH® 11255VSR Bulldog Xtreme
BOSCH® 11258VSR – SDS Rotary Hammer Drill
DEWALT® D25223k SDS Rotary Hammer
DEWALT® D25023K
DEWALT® D25023 D-Handle
DEWALT® DCH273P2 20V MAX* XR Brushless Lithium Ion 3 mode SDS
DEWALT® DCH213L2 20V MAX* Lithium Ion 3 mode SDS
DEWALT® DCH133B Cordless D-Handle
HILTI® TE-2 Pistol Grip
HILTI® TE-7 Pistol Grip
HILTI® TE-7C L-Shape
HILTI® TE 4-A18 Cordless L-Shape
HILTI® TE 4-A22 Cordless L-Shape
HILTI® TE 4-A22 w/ Hepa Vac.
HITACHI® DH24PF3 D-Handle
MAKITA® HR2475X4
MAKITA®18V LXT Lithium-Ion BHR241Z
MAKITA® XRH01Z LXT® Lithium-Ion Brushless Rotary Hammer w/HEPA Vac.
MAKITA® XRH01 LXT® Lithium-Ion Brushless Rotary Hammer
MILWAUKEE® M12 Fuel Model# 2416-21XC
MILWAUKEE® M18 FUEL 2712-20 Cordless L-shape
MILWAUKEE® M18 FUEL 2713-20 Cordless D-Handle
NOTE: BOSCH®, DEWALT®, HILTI®, HITACHI®, MAKITA® & MILWAUKEE® are all registered trademarks and are in no way affiliated with Doc's® Industries, Inc.

INSTRUCTION MANUAL
WARNING: AVOID POWER LINES
– maintain a minimum of 10 ft. (3m) from all electrical lines.