About ANSI: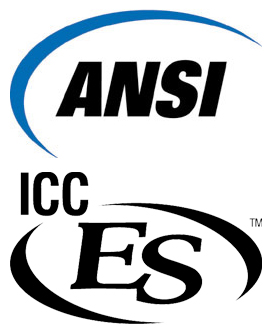 ANSI is an acronym for American National Standards Institute.
ANSI is a private non-profit organization that administers and coordinates the U.S. voluntary standardization and conformity assessment system. Its mission is to enhance U.S. global competitiveness and the American quality of life by promoting, facilitating, and safeguarding the integrity of the voluntary standardization system. ANSI is the official U.S. representative to the International Accreditation Forum (IAF), the International Organization for Standardization (ISO) and, via the U.S. National Committee, the International Electrotechnical Commission (IEC). ANSI currently has offices in New York City and Washington, DC.
ANSI serves as administrator and coordinator of the United States private sector voluntary standardization system.
The Institute oversees the creation, promulgation and use of thousands of norms and guidelines that directly impact businesses in nearly every sector.
About ICC-ES:
ICC is an acronym for International Code Council.
The ICC-ES was founded in 1994 as a nonprofit organization dedicated to developing a single set of comprehensive and coordinated national model construction codes. The founders of the ICC are Building Officials and Code Administrators International, Inc. (BOCA), International Conference of Building Officials (ICBO), and Southern Building Code Congress International, Inc. (SBCCI). Since the early part of the last century, these nonprofit organizations have developed the three sets of model codes used throughout the United States. ICC follows ANSI norms guidelines (standards).
ICC-ES reports are what most structural engineers use when specifying fasteners and materials for jobs.
In essence, ICC-ES takes the appropriate standards written by ANSI and works out a testing program for a product; then applies industry safety-factor standards (calculations) to the test results. Finally, ICC-ES performs factory inspections to make certain that proper quality control standards are being applied.
This makes it convenient for engineers who need to spec a product, as they can trust that the values given in an ICC-ES evaluation report follow industry standards for quality and safety .